workshop: lighting bootcamp for February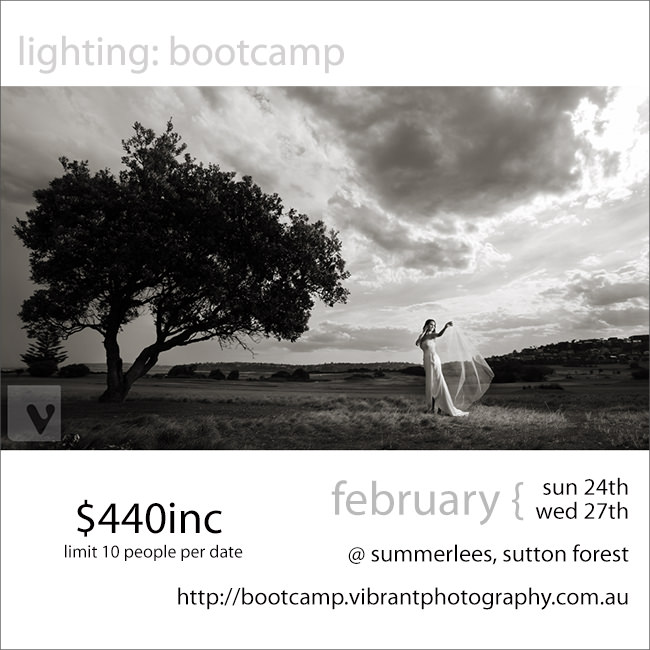 I'm baaaaack. Bringing some final details for my February lighting workshops. Yes next month 2013 0_o
I will be running the workshop at Summerlees Cottages where I have been quite a few times and ran part of my last workshop there. There is plenty of accommodation options in the area, including Peppers Manor House just down the road. Summerlees is part of the Southern Highlands, south of Bowral and boasts lovely, whimsical countryside with a classic french provincial twist.
course schedule
This course will be largely a hands-on practical photography workshop on learning how to work with light. Most of the time will be spent taking photos of live model/s and I explain as I go my approach to lighting and getting the most from your photos. The day will run from approx 10am to 8pm, with some small breaks between for hosted lunch and breaks (so your brain doesn't overload)
We will spend time firstly working with natural light, looking for light, shadows and taking beautiful shots without any of our own lighting. This will include posing people in harsh midday sunlight (hopefully the highlands weather plays nice)
As the day progresses we will add reflector/s, off-camera flash and video light to extend your photography. Participants will have opportunities to take photos as we go and are encouraged to bring their camera equipment. We will end the day with some night photography techniques including smoke effects, stars and fairy lights. (time permitting)
This course is aimed primarily at seasoned photographers, but amateurs and beginners are encouraged to also participate. A more tailored workshop can be had with a 1 on 1 workshop. Contact me for more details.
bookings
contact me at: info @ vibrantphotography.com.au with regards to which date you prefer to attend. Payment can be made with EFT, paypal and ccard.
T's + C's
Payment must be received in full before the workshop date of choice. Limit 10 delegates per course. Monies won't be refunded within 7 days of the workshop date but the placement can be transferred to another person or postponed for a future workshop or put towards a 1 on 1 workshop. Photos taken during the day can be used in your blog, portfolio etc.